Employment Case Victories
Outstanding Employment Law Trial and Settlement Results
DK Associates, LLC Principal Daniel Edward Kenney, Esq. has a proven record of obtaining excellent results for his clients. Each case is different and that the past record is no assurance that the attorney will be successful in reaching a favorable result in any future case.
Examples of some major case settlements include:
$500,000+ Settlement Against Fortune 500 Company
In September, 2021, DK Associates successfully negotiated a confidential settlement with a total value of half a million dollars for an executive with a Fortune 500 Company. The employee had alleged unfair treatment, retaliation and discrimination. Dealing directly with the Company's lead employment counsel, DK Associates negotiated fair terms on behalf of the employee.
$125,000 Jury Verdict Against CVS
DK Associates, LLC Principal Daniel Edward Kenney, Esq. was lead trial counsel in a week long trial against CVS, one of the ten largest corporations in the United States. At the conclusion of the trial, the Jury returned a favorable verdict for DK Associates' Client.
$100,000+ Administrative Trial Verdict Against Steven Mnuchin, United States Treasury
DK Associates has been representing an employment law client for over six years. In 2019, an EEOC Administrative Judge issued a finding of discriminations and retaliation after a week long hearing with approximately a dozen witnesses. DK Associates is continuing to vigorously fight for the Claimant, who was denied promotions on the basis of her race (African American) and because she had complained about discrimination in the workplace.
$500,000 Settlement against Financial Services Firm
DK Associates was co-counsel in a matter involving a multi-billion dollar financial services firm involving significant employment law allegations, including breach of contract and failure to pay incentives. The client received a significant settlement after many months of contentious litigation.
Fourth Circuit Court of Appeals Victory in Williams v. Morgan State University.
DK Associates whistleblower client receives reversal decision in Fourth Circuit Court of Appeals. The case involves a whistleblower at Morgan State University that attempted to stop political favoritism and debate rigging at the University's radio station in connection with the 2016 Baltimore Mayoral election of Catherine Pugh.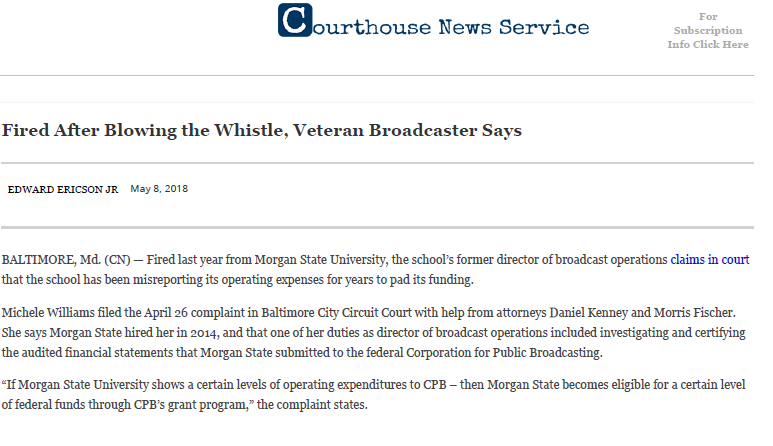 https://www.courthousenews.com/fired-after-blowing-the-whistle-veteran-broadcaster-says/
Over $3Million in Settlements Against Employers for Whistleblower, Discrimination, Breach of Contract Allegations.
Settled contract, bonus and equity claims against Biotech startup.
Settled Age Discrimination and Race claims against large Washington, D.C. contracting company. Client worked for company for over 20 years and obtained substantial confidential settlement.
Negotiated six figure settlement against a Fortune 500 Maryland corporation for claims related to age and race discrimination and retaliation
Negotiated settlement against a Maryland biotech company for substantial unpaid bonus incentives for leading tech saleswoman.
Negotiated large settlement in Maryland whistleblower and wrongful termination action following Maryland Circuit Court lawsuit against for-profit university.
Negotiated settlement against a Fortune 500 Engineering corporation following a company merger. Client's had alleged that pre-merger layoffs were due to Client's race and retaliation.
During litigation against a large Maryland hospitality corporation, Dan Kenney won several critical pre-trial motions. Client had alleged claims of retaliation and national origin discrimination. Following these motion victories, Defendant settled the case for a confidential sum.
Negotiated large severance package for high-level Federal Reserve employee amidst EEOC claims or national origin and race discrimination.
Negotiated settlement against DC/Virginia based government contracting corporation regarding allegations that company had violated the National Defense Authorization Act's (NDAA) whistleblower provisions and the federal False Claims Act (FCA).
Negotiated settlement for multi-plaintiff wage and hour claims concerning allegations of Maryland corporate health care provider's violation of Maryland Wage Payment and Hour Law.
Filed suit and scored victories in pretrial motions against large Maryland healthcare provider stemming from allegations of sexual orientation discrimination and retaliation. Client received confidential settlement figure.
Negotiated deal terms for executive/owner/investor of Maryland biotech startup company, including negotiation of stock options, vested shares, ownership percentages and executive compensation.
Negotiated Six figure settlement in U.S. District Court for the District of Columbia in start-up ownership dispute involving stock compensation and investment negotiations with owner/founder of start-up company.
Negotiated substantial settlement payment for client against large Maryland energy and retail corporation following allegations that company had terminated employee based on employee bringing forward claims of unsafe work environment and health hazards.
Negotiated settlement on behalf of security employee on claims of "reverse race discrimination" against large D.C. Metropolitan contract services corporation.
Trial victory at MSPB hearing against the United States Postal Service regarding allegations of failure to return disabled employee to work.
Represented numerous clients in high-level severance negotiations following termination by employers yielding increased severance benefits for clients.
Contract negotiations against employer that promised employee ownership of corporation and certain financial incentives if employee/investor relocated to Maryland/Washington, DC area for work. Client alleged corporation subsequently reneged on its promised and case settled for financial compensation following Maryland Circuit Court lawsuit.
*Please Note: Each case is different and that the past record of success is no assurance that the attorney will be successful in reaching a favorable result in any future case. The success of any future case depends upon a number of factors.